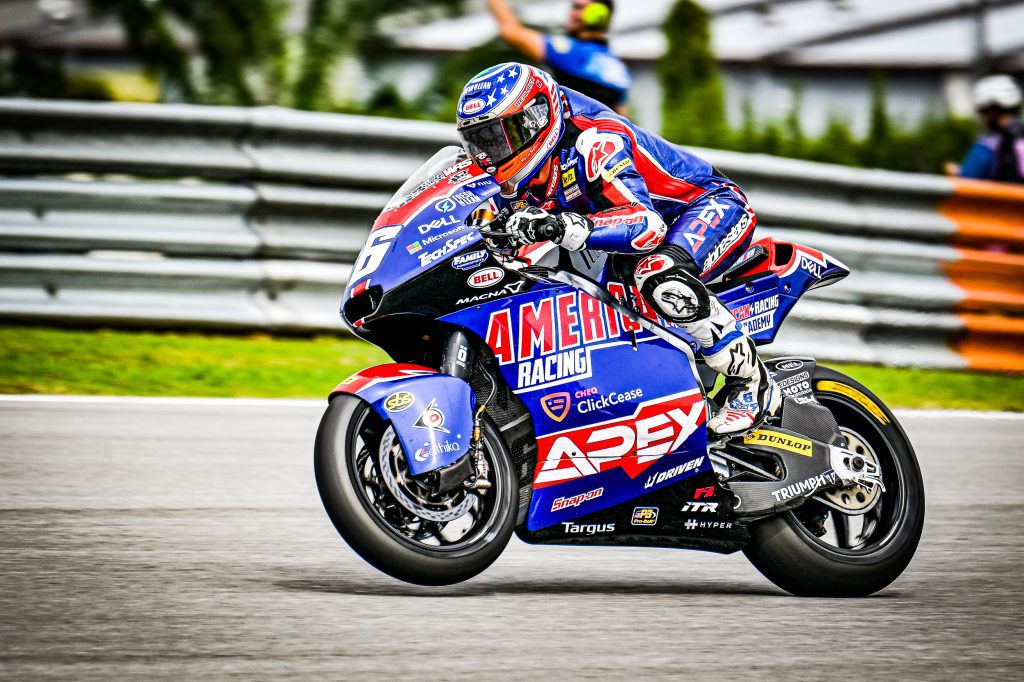 American Racing's Cameron Beaubier fought back from the turn-two incident ahead of him on the opening lap of the Grand Prix of Malaysia to finish seventh on Sunday at the Sepang International Circuit.
With Pedro Acosta and Somkiat Chantra crashing in front of him in the second corner of the Grand Prix, Beaubier almost came to a dead stop to avoid the melee. The incident cost the Californian at least five spots and he finished the opening lap in 13th place. From there he fought forward until settling into eighth in the final laps. On the last lap, however, drama unfolded ahead of him with then World Championship leader Ai Ogura crashing out of the lead on the final lap. Ogura's miscue moved Beaubier up to seventh at the finish.
Italtrans Racing's Joe Roberts, meanwhile, had a Grand Prix to forget as his Kalex had issues from the start with a lack of grip. Roberts finished lap one in eighth but was 14th at the end of lap two. It got worse from there and Roberts was forced out of the race on the eighth lap.
Beaubier's teammate Sean Dylan Kelly finished a lonely 18th.
"Sepang is a tough circuit," Beaubier said in a team release. "The heat doesn't make it any easier but I was getting along with it more and more as the weekend went on. It was tricky In practice and qualifying with the low grip level because you only had two or three laps of really good grip out of a new tire but we put in some good laps. I was going into the race pretty confident. Luckily, I didn't get caught up in the second turn crash but it put me back to like 16th or something and so I had to 'restart' my race from there. I felt like I had a pretty good recovery, though. I latched onto Marcel who had a good pace going and brought it home in the end. It's been a crazy past month with five out of six back to back races on different continents with all the jet lag, trying to eat something you know won't make you sick etc. but it's been a good time experiencing some new places with the team. I'll definitely be ready to go home after Valencia though"
The race was won by Elf Marc VDS Racing's Tony Arbolino, the Italian battling with Ogura in the closing laps after being caught by the Japanese rider. On the final lap, however, Ogura dove up the inside of Arbolino, lost the front of his IDEMITSU Honda Team Asia Kalex and crashed out of the race.
Inde GASGAS Aspar Team's Jake Dixon inherited third place with Red Bull KTM Ajo's Augusto Fernandez finishing an all-important fourth.
With just the Valencia round remaining, Fernandez is now 9.5 points clear of Ogura in the battle for the Moto2 World Championship, 251.5-242. Aron Canet, eighth in Malaysia, is third with 200 points.
Roberts sits ninth in the World Championship with Beaubier 15th. A good race in Spain could lift Beaubier to 13th in the title chase in his second and final season of Grand Prix racing.
"In the race I had problems with grip and at a certain point I went off the track," Roberts said in a team release. "It was an unlucky finish in a difficult weekend, but I can't wait to give my best back to Valencia."