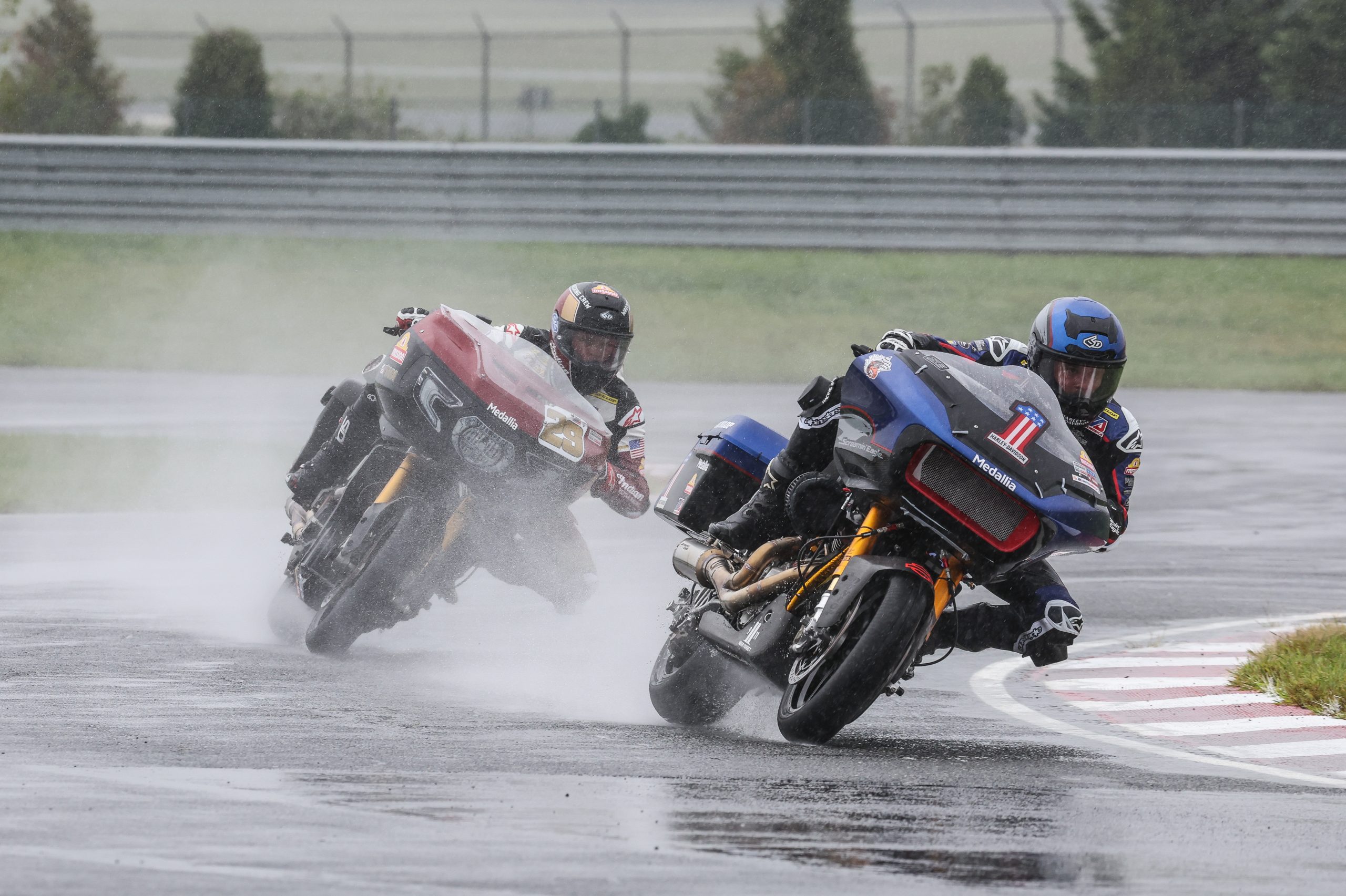 Random notes, comments, statistics, musings, and bits of trivia from the MotoAmerica Superbikes at New Jersey event at New Jersey Motorsports Park:
King Tyler Is Crowned
On Charles III's first Sunday as the King of England, Tyler O'Hara ascended to the MotoAmerica throne as the Mission King Of The Baggers. O'Hara's second-place finish sealed the deal, but the championship almost slipped through his fingers on the treacherously wet, low-grip Thunderbolt race course at New Jersey Motorsports Park. With points leader Travis Wyman crashing, yet somehow managing to lever his 620-pound H-D Screamin' Eagle Road Glide Special back up and into the race, O'Hara could have throttled back his Mission Foods/S&S Cycle/Indian Challenger considerably and tiptoed to the title. Problem was, he didn't know where Travis Wyman was or what had happened to him. His pit board had all the information he needed–"10 OUT" and "2 OK"–indicating that Travis was out and it was OK to finish second to Kyle Wyman in the lead. If only O'Hara could have seen it. "We got a little sporty there," O'Hara said. "Jumped out of the seat one time and then just kind of backed her down a little bit. To be honest, I had no idea that Travis was out. I didn't even see my OK on the board, and we counted the laps backwards."
Speedy Petey
So, who had the fastest trap speed of the entire weekend at New Jersey Motorsports Park? That would be Medallia Superbike rider Cameron Petersen, who spurred his Fresh N Lean Progressive Yamaha Racing YZF-R1 to 175.2 miles per hour on Lap 12 of the 14 laps he did in Saturday morning's Superbike Qualifying 2 session.
Alexander The Great
A few years ago, Corey Alexander thought he was out of road racing for good. The 2013 AMA Pro SuperSport East Champion sat out for a couple of years, then tried racing in American Flat Track before coming back to MotoAmerica on a limited basis in 2019. He found that he still had the talent and the passion to race, so in 2020, he made a return to MotoAmerica full-time. That's what makes his 2022 Stock 1000 Championship even sweeter for the New Yorker. Congratulations again to Alexander and his Tytlers Cycle/RideHVMC BMW team.
Herrin The Supersport Baron
2013 AMA Superbike Champion and 2016 MotoAmerica Superstock 1000 Champion Josh Herrin had unfinished business in the middleweight ranks. The former Moto2 rider raced for nearly six seasons in the various forms of what used to be known as "600 racing." He debuted in the 2006 AMA Supersport Championship aboard a Yamaha and ran a limited schedule as a rookie in the class. In 2007, he raced a full season in AMA Supersport and finished the season seventh-ranked. In 2008, he finished fifth, and then, he switched to AMA Pro Daytona SportBike in 2009 and finished second in that new championship. Remaining in Daytona SportBike in 2010 and 2011, he finished third and then second again, respectively. After returning from Moto2, he joined MotoAmerica in its first year and competed in Supersport, once again finishing second on the season. Well, in 2022, Herrin finally got it done: the Supersport title that eluded him for nearly seven seasons. Congratulations to Herrin and his Warhorse HSBK Ducati NYC team for accomplishing that mission.
Barry Was Brisk
Twins Cup rider Jody Barry seems to have vanquished his mid-season woes. The Veloce Racing Aprilia rider was not only fastest in Practice 1 and both qualifying sessions, but he set a new class record in Q1 with a fastest lap of 1:24.924 and then broke his own record in Q2 with a pole-setting lap of 1:24.727.
Closing The Barnes Door
Michael Barnes has had the longest professional road racing career of any rider in MotoAmerica competition. The Floridian began his AMA career back in 1989. In that time, "Barney" has ridden 15 brands of motorcycles for 34 different teams. That "34" is ironically also his trademark competition number. Just prior to Sunday's Mission King Of The Baggers post-race press conference, third-place finisher Barnes told me that this was his last season as a road racer. Of course, I had to ask him, "No Daytona 200?" "No more Baggers?" He shook his head at all of that, and said, "I'm done after 34 years of racing." "34…there's that number again," I replied. He smiled and nodded his head. Thanks for all the memories, Barney. You were a class act in the paddock and on the track for those three-and-a-half decades.
Hurricane Hayes Still Storming The Record Books
And, then, there's Josh Hayes. A few years ago, after his final year with the Monster Energy Graves Yamaha Factory Racing team, he adamantly said that he didn't retire. He still hasn't. Over the weekend at New Jersey Motorsports Park, he got the double win in Supersport aboard his Squid Hunter Yamaha, bringing his all-time AMA wins record to 86, which ties him with AMA Hall of Famer Miguel Duhamel. Oh, and if you're wondering how many total AMA races Hayes has competed in, it's 323. Hayes will be at Barber Motorsports Park next weekend for both Supersport races where he will attempt to break the tie with Duhamel and extend it by two over the French-Canadian legend. Those will be race starts 324 and 325 if you're keeping score at home.