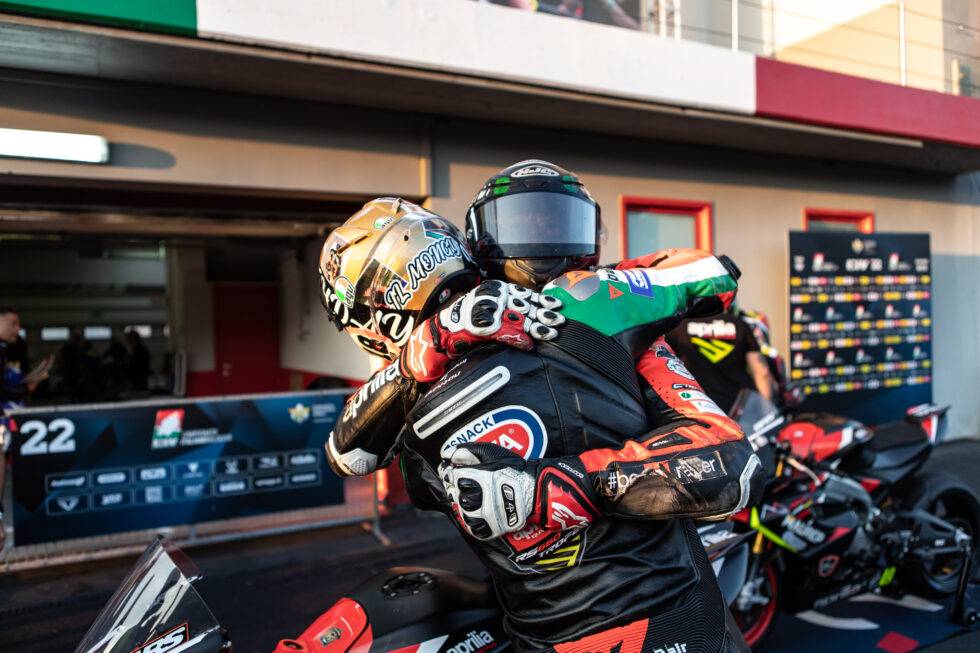 After a few days of careful thought that clearly resulted from the public outcry expressed by motorcycle road racing fans around the world, BK Corse, the organizers of the Aprilia Racing RS 660 Trofeo, ultimately decided to award co-championships to American Max Toth and Italian Francesco Mongiardo.
This past weekend at the Autodromo Internazionale Enzo e Dino Ferrari in Imola, Italy, Toth and Mongiardo ended the Championship tied in points and also race wins after Toth won Saturday's race one and Mongiardo won Sunday's race two. But, rather than awarding co-Championships to the two riders, officials named Mongiardo the champion based on the fact that he had the most-recent race win (Sunday's race two result).
Well, today, that decision was changed, and Toth and Mongiardo are now co-champions of the Italian spec series featuring riders aboard identically prepared Aprilia RS 660 motorcycles.
Yes, we know the old saying, "a tie is like kissing your sister." But, as the press release from BK Corse put it, "given the extraordinary situation and with few precedents in history which, with immense satisfaction from the organizers and all the bodies involved, led two riders to equal every possible result during the season, it was unanimously decided to name Francesco Mongiardo and Max Toth as both 2022 champions."
"Having consulted the Race Directors, the Italian Motorcycle Federation, Aprilia Racing, and all interested parties, it is with great pleasure that we communicate the unanimous decision to award the victory of the 2022 Aprilia RS 660 Trofeo Championship to both sporting and moral winners this season," a representative from BK Corse said. "Francesco Mongiardo and Maxwell Toth are equal winners of the 2022 Aprilia 2022 RS 660 Trophy. This decision was made due to the exceptional result of the riders' perfectly equal result and in compliance with the Regulations. We therefore congratulate both champions and look forward to seeing them at EICMA 2022 for the official awards ceremony."
BK Corse went on to thank "all its staff for the great season completed with professionalism and passion. Thanks to all the riders, the sponsors who believed in the project, all those who supported it, and obviously the great Aprilia Racing family."